Books
---
The Zigzag Papers ~or~ Who Wants Wanda Wasted: An Inspector François Poulet of Interpol Attempted Murder Mystery
A burlesque, a morality tale, a comedy of errors, a rib-tickling farce—any of these descriptions fits The Zigzag Papers. Our hero, Armand DuBois, a sous-chef at the Grand Hotel in Zürich, Switzerland, on vacation in Zigzag, Oregon, is mistaken for the fictional Inspector François Poulet of Interpol and throws himself into solving the mystery of who is attempting to murder Wanda Fuller, postmistress (identifies as "mail person") who wrote The Book of Love about her six former husbands. All six, fearing she is writing a second book, The Zigzag Papers, exposing their deep secrets, are suspects. Wanda's identical twin sister, Rhonda, lurks in the shadows.
The $13 price was set by Project Manager Erin Hedges because it's Taylor Swift's favorite number. As a bonus, all 16 characters are beautifully illustrated by artiste extraordinaire Jim Agpalza, who flew in from a distant galaxy under cover of the Perseid Meteor Shower. Jim also created the scandalous but brilliant cover for Trump Über Alles: Rhymes for Trying Times (Road's End Press, 2022).
Purchase The Zigzag Papers
---
Trump Über Alles: Rhymes for Trying Times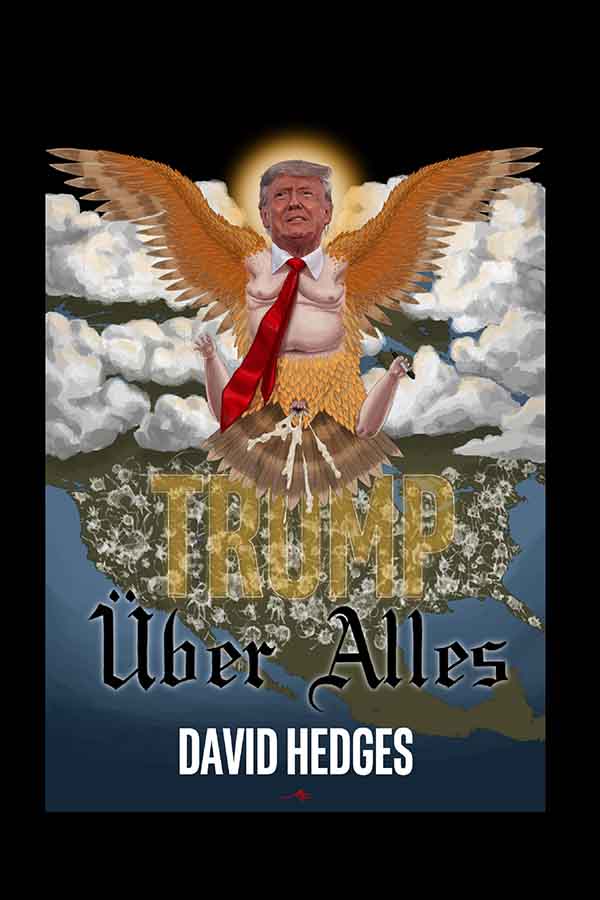 "Up with democracy! Down with Trump!" Thus ends the preface to Trump Über Alles: Rhymes for Trying Times. But rather than spewing invective, the book spills over with incisive wit and high humor. As David A. Horowitz, political history professor at Portland State University, writes, "If humor truly is the greatest weapon in times of crisis, David Hedges has provided invaluable assistance to the psychological well-being of the nation with a lighthearted record in verse of the tenure of America's former president." In the eyes of the poet, Trump "begged and pleaded to be satirized, parodied, and skewered. No character since Shakespeare's Falstaff has been so ripe for ridicule, and so prone to pratfalls. No political figure in American history has boasted such a broad and deep assemblage of unsavory and unscrupulous associates."
Hedges plows, tills, sows, and reaps with a deftness honed over more than six decades of writing and publishing poetry, essays, and fiction. Poet and author X.J. Kennedy dubbed his verse "masterfully crafted," and declared, "I'm a Hedges fan for life." All but a few of the poems in this book appeared online in Light: A Journal of Light Verse, successor to Light Quarterly, chosen from submissions to its "Poem of the Week" competition over the four years Trump occupied the White House.
Purchase Trump Über Alles
---
The Changer
The Changer is the rare hopeful dystopian novel.
The title derives from a Native American myth that presages a sudden upending of the order of things—as geophysicist Emory Barnes, a character in the book, puts it, "The end of all life on Earth." But to Jay Joseph, leader of the Salmon Warriors, the Change means, "The end of this world, and the beginning of the next," offering hope of a return to a balanced biosphere, where mankind's imprint is dramatically reduced. What triggers the Change, who drives it, and how it unfolds will keep you turning the pages of this innovative book, with its fast-paced action paused by reflections on the nature of our species, and of nature itself.
Purchase The Changer
---
Prospects of Life After Birth: Memoir in Poetry and Prose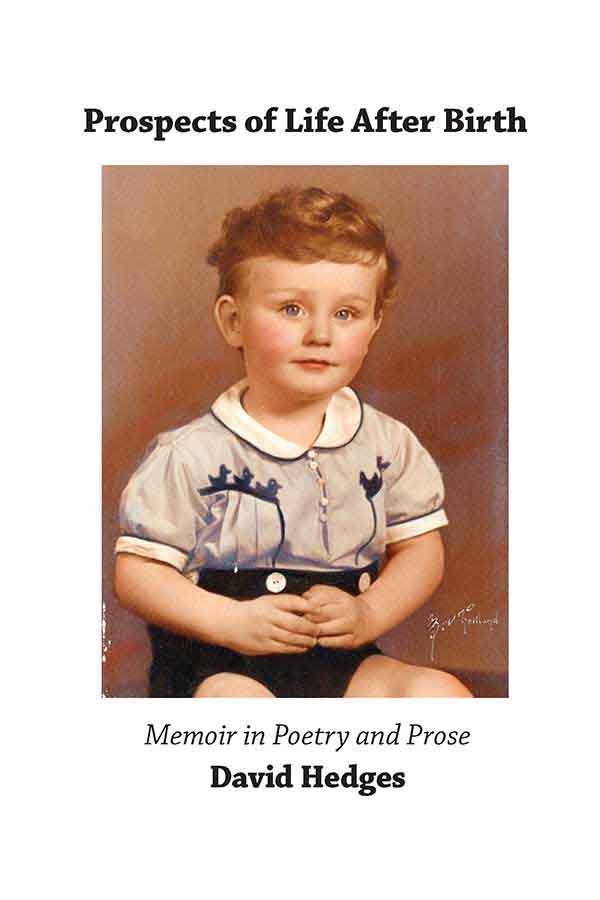 Road's End Press is proud to offer Prospects of Life After Birth in cooperation with Sweetbriar Press. The book chronicles the first 17 years in the life of Oregon poet David Hedges, from the high drama of his birth through one lively adventure after another.
At six, he swings on a rope into the fiery blast from a locomotive's smokestack. At seven, he carries water for circus elephants and earns a reserved seat under the Big Top. At 10, he helps Sailor Jim build the "world's most fantastic hobo shack." At 11, he travels to St. Louis on the Portland Rose and is taken under the wing of Louis, a Black waiter who shows him the "other side" of the train, the galley, in full swing. At 15, he leads a troop of 12-year-old Tenderfoots to victory in the Camp Meriwether Olympics after the Scoutmaster falls ill; is serenaded up close by jazz singer June Christy; distills moonshine gin at a Central Oregon science camp, and takes in the Battle of the Strippers at two Portland burlesque theaters. At 16, he works on an Eastern Oregon ranch, pitching peas and driving a tandem axle dump truck in the wheat harvest—and experiencing his first brush with love.
Nationally acclaimed poet X.J. Kennedy writes, "David Hedges has given us a major work of literature—an account of his early life in vivid, masterfully crafted verse."
Purchase Prospects of Life After Birth